Every Monday- we have a favorite topic to discuss in Office "My Sunday". This time I was too excited to share my Sunday experience with all.
I have never been an early riser. Thanks to my just-perfect Office timings and my Toddler.
I am not the one who is a live motivation to "How do you start your day?". Albeit, I love the morning weather but this love of mine never overpowered my will.
But yesterday was different. I don't know from where the punch came from and I left my Home at 5:30 am to witness the rising Sun. I stepped out and the cool Breeze welcomed me.
Enchanting sound of Temple bells mesmerized my Soul and I just followed it. I thanked God for the day- Day which was so different and a memory in itself.
Pure fragrance of Chandan(Sandal) compelled me to wear it. I had tears in my eyes- tears of joy, tears of accomplishment, tears of fulfillment.
There were Chirping Birds, Blossoming Flowers, Swinging Trees, Energetic People, Smiling Kids- so much to thank for.
The day seemed longer that I took up the tasks pending from long- I pampered myself with much needed Pedicure, organized my cupboard and collected all the stuff waiting to get altered.
We always relate Sunday with laziness and laid-backs. I am thankful that I found a perfect way to celebrate my Sunday.
[clickandtweet handle="lifebioscope" hashtag="#mindful #mondays #mondaymotivation" related="" layout="" position=""]Now on wards my Sunday will be a day to rise early[/clickandtweet], welcoming the Sun and to express Gratitude, a perfect potion for head-start Monday.
Linking it with Monday Musings at What Joy is Mine by Naomi.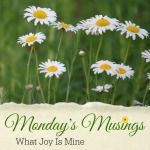 If you liked this post, you can have these posts delivered to your inbox: Click the SUBSCRIBE button in the sidebar.